Can I use Psi to answer chats?
2135 views | Last updated on Nov 25, 2019 staffing
Psi is a free, open source Jabber (only) client. It works well, but it may be more difficult for end users to configure than Pidgin or Adium.
Psi hides in the system tray if user closes main application window. Train users to select Offline status to leave shift, and to Exit by selecting the Psi logo > Quit.
It inserts itself into the Startup folder on installation. Note that because it does not support plugins, it may not get customized for easiest access to more advanced LibraryH3lp features.
To add your LibraryH3lp account to Psi:
Click the Psi logo in the lower right corner.
Pick Account Setup > Add.
Give a name to this account (this is just a profile name, really).
Click Add.
In the Account tab, use your full LibraryH3lp address for the Jabber ID: name@libraryh3lp.com
In the Connection tab, uncheck Probe legacy SSL port.
Click Save.
Important Config Details
By default, Psi will not automatically open new chat windows, instead alerting the user by sound and animation in the buddy list. To change this, pick Options > Events > Auto-open new messages. Also in this area: check Allow auto-open even from unlisted users and Auto-authorize contacts.
It is probably best in most cases that Psi is specially configured to send a message to the server when a librarian closes a chat window. Pick Options > Advanced > Enable Inactivity Events. Read more on this topic.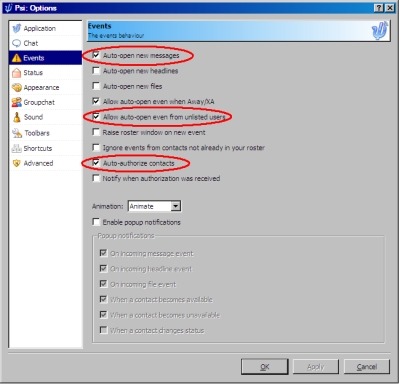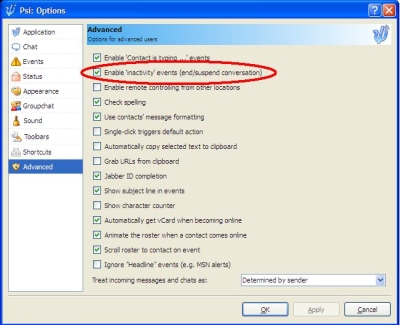 FAQ URL: